Vocational Center
Our vision is to empower men with the ability to provide for themselves and their families, while impacting the marketplace for Jesus and extending the Kingdom of God through supporting the local church.
History
Chris and Deborah Maas from Zimbabwe established the Afrika wa Yesu Vocational Centre in Nacala, Northern Mozambique in 2007. The centre empowers Christians by giving them the opportunity to learn a trade with which they can support themselves, educate others, and spread the Gospel of Jesus Christ through their work ethic and by supporting their Church. Our Nacala team works closely, serving in both the Bible School and Vocational Centre. The program consists of a five-month training period during which students are discipled, participate in local church life, and discover basic business principles according to the Word of God, whilst learning and practicing carpentry skills with a set of hand tools, and sustainable agriculture, equipping them socially and spiritually. We also offer courses in electrics, computers, and construction, which occur at different times as the need arises.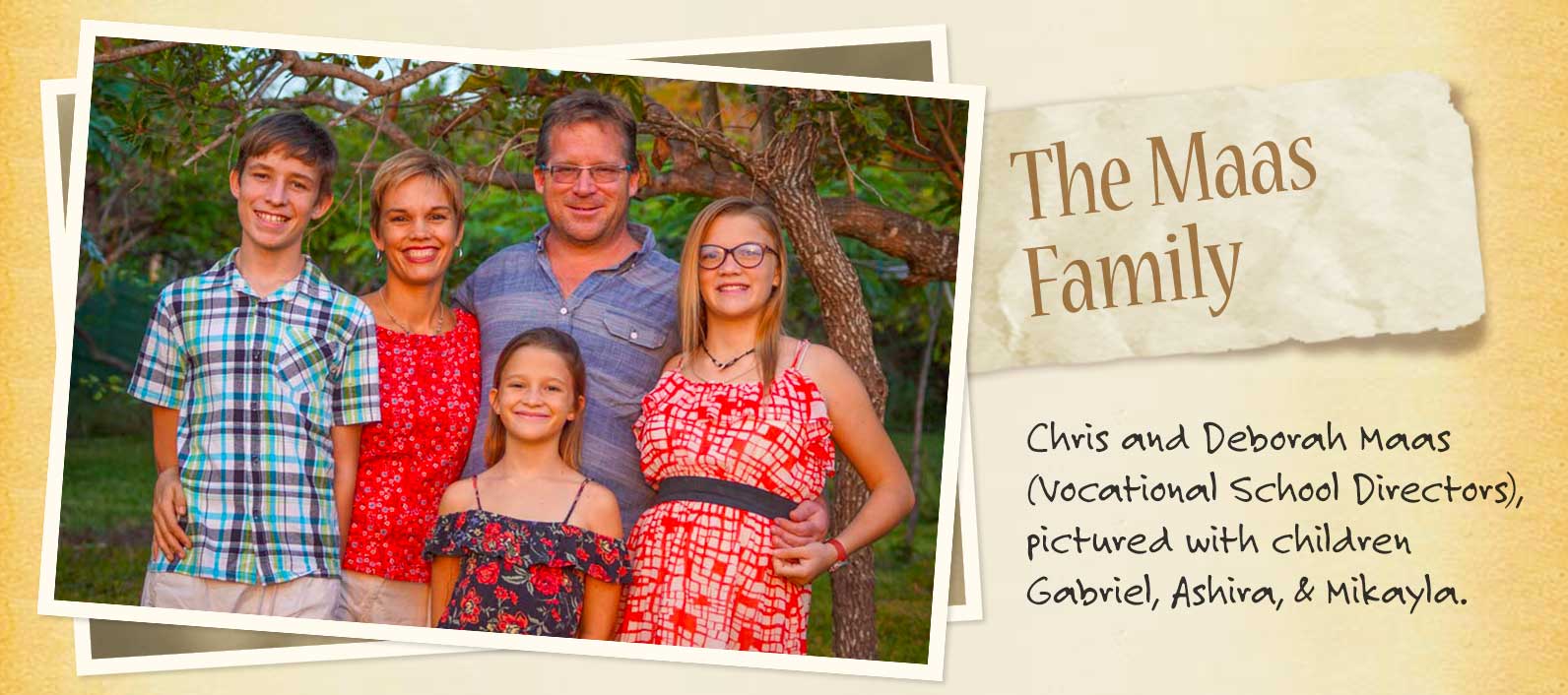 The Centre
The centre opened with its first class in August, 2007, using the classrooms and dormitories of the Nacala Bible School and a cashew tree for a workshop while construction of the Centre was in progress. God provided funds for the construction of a wonderful building which has a classroom, workshop, and living areas all under one roof.
Students are trained in basic business management and Christian work ethics, emphasizing on the Glory of God in Work and the Disciplines of Stewardship. Coverage of the practicalities of business management opens the eyes of the students and understanding comes as they learn how to effectively operate — costing for profit, market research and keeping records among the topics covered in this arena.
Woodshop
We have also been able to open a side business in the form of a woodshop which manufactures doors and windows and their frames. We have a jack-saw to cut timber cants to size, a planer, surfacer, mortise and other tools. The Woodshop employs several men who have already been through the Vocational Centre, and they are a great blessing both to the ministry and the community. The vision for the Woodshop is to generate an income to contribute toward the running costs of the Vocational Centre. The business is five years old and growing steadily.
Sustainable Agriculture
80% of people in Africa are poor subsistence farmers. A family of six needs 1,250kg of corn to survive, yet the traditional farming methods leave annual production levels as low as 350kgs per hectare. People need to eat, and so this shortfall is supplemented by Aid relief or other forms of income and food intake. Our passion is to give each student the ability to grow productively enough food to sustain his family as well as make a profit and extend the kingdom of God by helping those in need. We believe in educating the poor to use what God has already put in their hand in a way that glorifies God and brings life to the earth.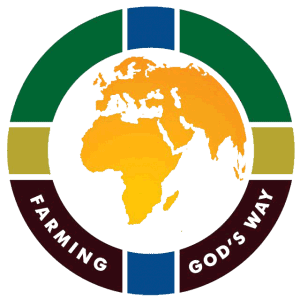 Farming God's Way
Farming God's Way is a tool given for the use of the body of Christ to equip believers in breaking the yoke of poverty among the poor. To learn more about this unique farming program, please visit their website at www.farming-gods-way.org
Follow-Up
Graduates of the Vocational Centre leave with a new understanding of what it is to generate a sustainable income. They are counselled extensively regarding their business plans and visions before returning home, ensuring that they can follow a simple step-by-step process toward attaining their goals. They are encouraged to teach the 'Business God's Way' course in their churches as part of cell groups, and to impact their community through the marketplace, the church through their ministry, and to extend the kingdom of God in every aspect of their lives. God has made us Spirit, Soul and Body, and has called us to function to His glory on all three levels.
Every few months we initiate visits to different areas of the nation, as our students come from all over Mozambique, to connect with the alumni and mark their progress. We counsel them with their difficulties, advise them on business decisions and strategies, pray with them and encourage them. It is a great reward to be able to see first-hand the impact that the Vocational Centre is having in all areas and in all walks of life in Mozambique.
Nacala-Porto
Nacala is a port city on the northern coast of Mozambique. Its population is largely Muslim. New converts are often ostracised from their community, "let go" from their jobs and disowned by their families. The Vocational Centre creates an opportunity for them to not only learn the Word of God, but also an opportunity to learn work skills that will enable them to start a new life.
Help us "Grow the Vision" through monthly financial support for the Maas family, construction, equipment, or students.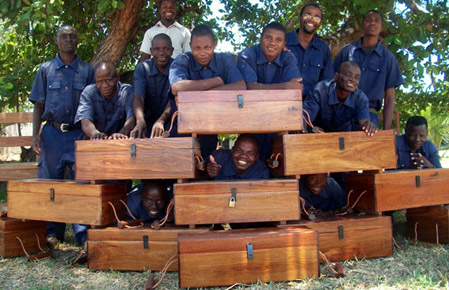 Jesus said, "Launch out into the deep, and let down your nets for a draught. And when they had this done, they enclosed a great multitude of fishes: and their net brake. And they beckoned unto their partners, which were in the other ship, that they should come and help them. And they came, and filled both the ships." — Luke 5:4-7
Thank you for your participation in this harvest!