Bible School at Inhaminga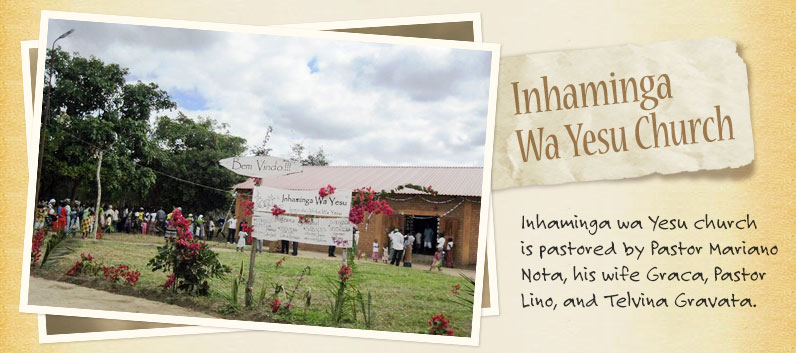 About Inhaminga
Inhaminga is a small remote rural town in a rural part e of central Mozambique. Situated in the midst of some of the poorest people of Mozambique, Inhaminga is known as one of the worst affected areas during many years of civil war and famine. Our hearts were drawn to these 'forgotten people' living in an inhospitable terrain. Through the help of an amazing international team of missionaries together with courageous Mozambican Christians, Afrika wa Yesu has established a vibrant ministry base and Bible School on the outskirts of the town. The entire region is being affected through the ministry as we reach out to some of the darkest places in the nation. In a dry and parched land God has blessed us with a water supply that enables us to give water to the local hospital and to many families. Our campus is as a watered garden in the midst of a desert and from here the living water of the Word of God spreads out to the community and outlying areas where we are planting churches,  making disciples and bringing love, joy, hope and healing in Jesus' Name.
Bible School
Students come from all over the nation to live on campus for a six months intensive Jesus experience. This Training Centre gives balanced teaching from the Word of God, establishing a firm foundation built on biblical truth. Students discover their identity and destiny in Christ while being equipped to make a difference in their own area of influence. Through liberated praise and worship, prayer and intercession and hands on practical ministry they are trained to go and make disciples also.
Many who come are bound by the devil due to living within a culture of witchcraft and ancestral worship. Confession and Repentance leads to deliverance as demonic strongholds are renounced and broken. Demons flee; students are healed and set free. The baptism of the Holy Spirit brings the joy and strength to continue in victory. Floodgates of Praise and Worship are opened up from deep within. Lives are totally turned the right side up — all Glory to Jesus!
Practical Hands On Training
All students and team members participate in practical ministry during week-ends and outreach missions. What they learn in the classroom they put into action. The work of the ministry is to win souls, teach people to pray, praise, worship and love God, preach, lay hands on the sick and see them recover, cast out demons and set the captive free. It is the JOY of the Lord that is our strength.
Further Training
Graduates who desire further training return to participate in any of the following courses:
International Bible School: Foreigners who speak Portuguese or Spanish may apply for International Bible School. Students join Mozambican students for some classes and activities as well as receiving cutting edge missions training.
Pastoral Training: Multitudes of churches in Mozambique are led by pastors who have little or no Bible Education. Many mix witchcraft, polygamy and cultural traditions with the Word of God. All Afrika wa Yesu Pastors must first go through six months Bible School and then complete Pastoral School.
Leadership School: Opportunity to learn how to be a good and strong leader is given through this course, covering various leadership areas in the church and community. Students are trained in good character, ethics, integrity and confidence.
School of Worship and Drama: African people have a natural rhythm and many of our students are very gifted in music and drama. This is a new course which we are still developing. Now that we have power at Inhaminga, musical instruments other than animal skin drums can be introduced.
Project Alegria (Joy): Reaches into the community to help the poor and to make a difference in the local hospital where extra care is needed.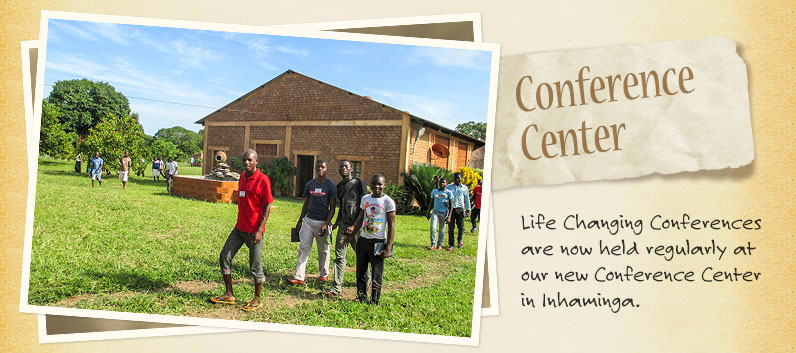 Conferences and Seminars are held on a regular basis in our new Conference Centre on Inhaminga Campus. These are life changing encounters with God and fellow believers. Men, women and youth from all over the nation attend these dynamic conferences.
Missions Training and Team Training Seminars are also hosted on Inhaminga Campus.
For more info visit the Nacala Bible School and the Vocational Centre pages.